Written by Harry Prince
Have you ever wondered why people knock their glasses together when they cheer? Like most of the traditions we have, it's not an arbitrary custom.
It's an old Viking tradition. They'd crush their cups together so the drink would land in the opposing glass. So if you had poisoned someone's cup, you'd have to drink it too.
What will the history books say about us and our events? How will you help shape our times?
Get inspired by our ancestors, take the best of their event planning magic and add it to the modern facilities we have in our arsenal.
The History of Event Planning Industry
If there were a hall of fame for event planning, the inaugural inductee would have to be Cleopatra. She is the first known event planner as we know it. If there was someone before her, we apologise, but they've been lost to history.
Every event has a theme and a purpose. Allegedly, Cleopatra's meetings were intended to attract potential lovers. A famous example is her boat parties down the Nile, filled with candles and perfume.
She didn't have the internet, so communication was limited, to say the least. Messages were hand-delivered over weeks or months. Of course, Cleopatra's landmark events would not have been possible without an army of servants and free labour.
Although language and fashion change through the ages, the core of events remain the same. The elaborate and phantasmagorical event was driven by the French royalty of the medieval period.
From this period, event planning icons include Madame Pompadour, mistress to King Louis XV, and Marie Antoinette. They were infamous for throwing huge costumes parties with the finest musicians.
But now big events are for everyone, not just royalty. So how did the world's most privileged lose their exclusive stranglehold on major event planning? Well, it all started with a little episode called the industrial revolution.
Event planning took on a whole new identity with a fresh section of society, newly moneyed and newly empowered. The aristocracy's leisure pursuit and peace brokering of warlords transformed into this new thing called business.
And with these new wonder machines called trains, the scope of event planning boomed. People could travel further, foodstuffs and goods could be brought in from further afield, and communication became more concise.
From then on, event planning has become increasingly democratised. And they're bigger and better than ever, spanning days and continents, with hundreds of thousands of people in attendance.
How Event Planning has Evolved
Plan Your Meetings released its first issue in 1995. They declared that the best event planners should incorporate the cell phone into their operations. And how right they were. Cleopatra might have been able to throw some of the most famous events in history without one, but today's planners arent her and the world wasn't what it was.
Without a doubt, the internet has been the most significant change in the events industry. That's quite a statement considering how air travel, freezing, electronic music and the party frock have come along.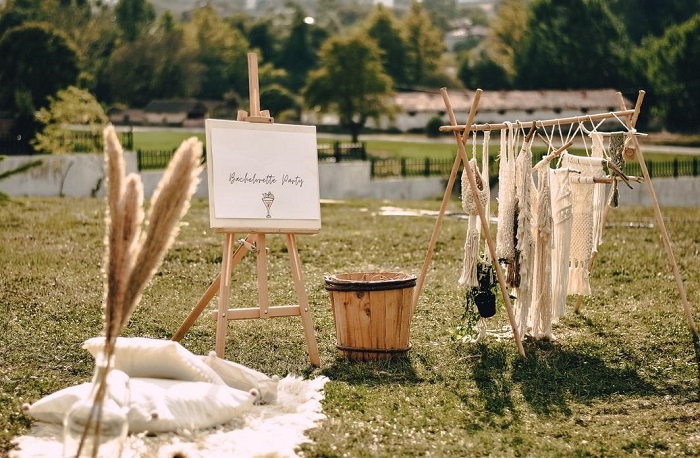 Bachelorette party welcome area and decorations via Unsplash
 
Style
We couldn't end without saying something about style. It has changed continuously and will proceed to do so forever.
Royalty and the aristocracy wore the world's finest silks. From the Middle Ages through the Regency Era, colourful costumes made major events that bit brighter.
The industrial era saw the dawn of the formal tux, suits and ties, and gowns.
Today's style has shifted once more. Our society embraces 'casual'. Major events are for everyone, and our clothes tend to be fair game. Jeans and a t-shirt have never been so chic.
This outlook gives our era an edge. The simple fact is that we have more choice than previous generations. We can wear trainers and a shirt. But we can also choose to get dressed up if that's what we like. 
Getting the Word Out
Before we talk about advertising, it's important to acknowledge that events with open invitations are a fairly new phenomenon. For centuries, event planning operated on exclusivity. It's only in the age of consumer capitalism and the breaking down of class boundaries that event planning has welcomed everyone.
How you would draw guests to your event has changed in this short time as well. Before the internet, event advertising was the job of flyers, posters, and word of mouth.
Instead of stumbling across an event advertisement, you can now hunt them down from the comfort of your own home. Attendees can search for specific kinds of events via websites like Facebook and LocalHop. You can even filter for dates, types of events, location and so on. The power is now in the hands of the guest.
As software and websites become more sophisticated and user friendly, we're now able to create adverts that are slicker, more professional and targeted.
The Lost Art of the RSVP
A long time ago, in a reality far away, event planners would invite people with physical documents sent in person. Arrival could take days or weeks, with the risk that they may never reach their final destination.
Contemporary event planners can invite people at the click of a button. But people can and still do send handcrafted invitations, mostly for private events like weddings.
In the modern age, we are often accused of being impersonal. So a handwritten letter could be a classy touch to extend to your guest. We encourage people to take the best of the past to make their event stand out. Perhaps this could be one of those occasions?
Finding Your Way There
How on earth did people find things back in the day? It's a sad state of affairs, but we are literally and figuratively lost without Google Maps.
Way back, people had physical, foldable, and ungainly maps to locate their events. Just getting there could be a point of anxiety that sometimes resulted in the strange phenomenon of asking a stranger for help.
We've not lost the sense of adventure of getting to our events with Uber or Google Maps. But you know, we also don't get lost, so that's nice.
 
Technological Adventures
We don't want to repeat ourselves, but we can't underestimate just how much technology has radicalised the event industry.
Logistically, it has changed how events are planned and administered. But it has also shaped the nature and style of them. Technology had even moulded the very people that go, and the presence of food and drink.
Events can exist online now. The great Cleopatra wouldn't have been able to arrange that. The hybrid event and all its variations have begun to change the shape of events this century. We are entering an era where attendees can virtually join your physical event from anywhere in the world!
Conference venue in Madrid via Spacehuntr
 
Finding the Perfect Venue
Finding a venue for your event might have been a challenge within the 1800s but nowadays it is as simple as it can get. Services such as Spacehuntr are in place to provide people with ease of mind while looking for the perfect venue.
This team of experts is not only located within Madrid and Barcelona but all across Europe. The team's concept of Work, Play, Stay, allows anyone to find their event venue, accommodation and after-work spaces.
Spacehuntr recently expanded within Spain and is asking local venues if they would like to be part of the platform! All of this is possible in the modern age and has made event planning many times easier when compared to the 'good old days'.
Wrapping Up
So what will the future say about our events? We're waiting for you to give an answer.
Maybe the next time you clink glasses with one of your guests you can think of the Vikings toasting the afterlife. When you get changed into your formal wear at your next well-heeled event, think of how old this tradition of getting dressed up is.
Don't get caught looking back too much though. Look to what the future holds for event planning, like hybrid events. Get on top of this new wave by learning how to engage virtual guests.