Boasting what is regarded as one of the most beautiful bays in Spain, Santander, the capital of Cantabria, provides a perfect backdrop for all kinds of events. Well-connected by road and air – the city's airport operating national routes and that of Bilbao offering flights to the majority of Europe's chief capitals – in addition to a ferry link with Plymouth, this welcoming city has superb congress facilities, including several historic venues and convention hotels. Santander is also famous for its cultural programme, featuring the International Festival. And those with free time on their hands should take a stroll on the Sardinero beach to the Cabo Mayor lighthouse, or visit the Altamira Museum, after a seafood meal at one of the city's restaurants.
To the south of the cliffs, hidden coves, and pristine beaches of Cantabria's enchanting coastline lie the rolling pasturelands of the Pas, Miera and Pisueño Valleys. In addition to some splendid examples of Romanesque architecture – above all churches and monasteries – and Rupestrian art, it is an ideal destination for incentive trips, outdoor training and team building programmes, as well as outdoor tourism. In addition to a wide range of outdoor activities, including hiking, quad, biking, 4x4 trails, paintball, paragliding, horse trekking, and cycling tours, any trip should envisage a cultural/culinary tour of the area's enchanting villages: Santillana del Mar, Comillas, Castro Urdiales, Santoña, Barcena Mayor, Potes, San Vicente de la Barquera, etc.
Visible from practically any place in Cantabria on a clear day, the Peaks of Europe conform one of the largest national parks in Spain, covering an area of 700km2, part of which is located in the regions of Asturias and Castile and Leon. An area of unparalleled beauty with a rich fauna and flora, its spectacular peaks are ideal for all kinds of outdoor activities and adventure sports, including climbing, hiking, canyoning, and skiing at Alto Campoo; and its delightful villages – Cillorigo de Liebana, Mieses, Treviso, Cosgaya, and Ledantes, to name but a few – for their cultural heritage, delicious cheeses, eau de vies, and mountain cooking.
From its marvellous beaches to its rugged mountains, from sea kayaking to paragliding, from cutting-edge congress facilities to charming hotels, Cantabria is one of Spain's most attractive MICE destinations.
Highlighted suppliers
2409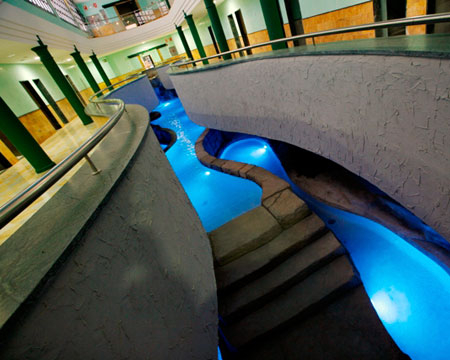 Spa hotel for events, incentives and celebrations in Solares, Santander, Cantabria, Spain