Located in the Atlantic, about two and a half hours away by plane from the Iberian Peninsula, and approximately four hours from Europe's chief capitals, the Canary archipelago comprises seven main volcanic islands – Tenerife, La Palma, Gran Canary, Lanzarote, Fuerteventura, El Hierro and La Gomera – and several islets, all linked by air and by ferry. With eight airports, a modern motorway network, and top event facilities, ranging from state-of-the-art congress and exhibition centres to three-, four- and five-star meeting and convention hotels, the Canary Islands constitute one of the most attractive MICE destinations in the world.
Modern convention centres, with the capacity for hosting large international events, luxury meeting and boutique hotels in an idyllic settings, and magnificent beach resorts, the Canary Islands has the ideal venue for any type of corporate or private event and a broad selection of experienced MICE service providers. For those that want to relax, there are spa centres and watering places, offering the latest in treatments, and fabulous beaches, and for the more energetic, world-class golf courses, a large number of marinas, and no end of sports and adventure activities.
Nevertheless, with 141 protected spaces, including four national parks – those of Caldera de Taburiente (La Palma), Garajonay (La Gomera), Teide (Tenerife), and Timanfaya (Lanzarote) – and four Biosphere Reserves – El Hierro, Gran Canaria, La Palma, and Lanzarote – the Canary Islands' diverse landscapes are their most treasured asset. The archipelago's volcanoes, lava fields, sub-tropical forests, immense dunes, extensive pine forests, mountains, virgin beaches and sea, together with its mild climate all year round, offer perfect conditions for all kinds of sports and leisure activities: scuba diving, sailing, deep-sea fishing, surfing, kite boarding, wind-surfing, high-risk sports, hiking, horse riding, etc.
The archipelago also has an interesting history and unique culture, reflected in the architecture of its towns and villages, its museums and archaeological sites, and in its traditions and festivals, above all its world-famous carnival celebrations. The Canary Islands- cuisine is another reflection of its culture, characterised by its simplicity and the quality of the fresh produce used in the elaboration of exquisite dishes: fish and shellfish, lamb and kid stews, a broad range of delicious honeys, without forgetting the islands- fine wines.
Highlighted suppliers
124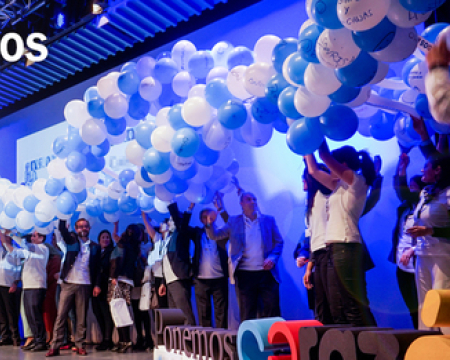 Creative event production company in Seville, Madrid and Valencia